*EL CAMINO I is sold out. Contact jerichohillpickleball@gmail.com to apply for EL CAMINO II.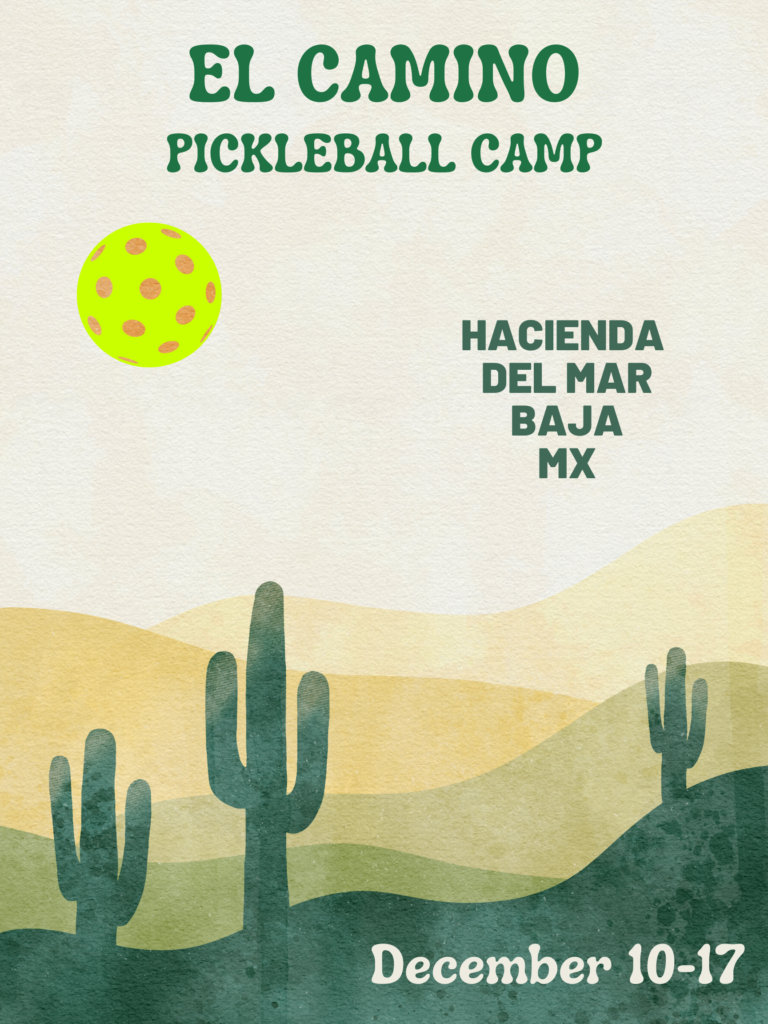 I've been cordially invited to join the visceral realists. I accepted, of course.

Roberto Bolaño, The Savage Detectives
El Camino is a pickleball camp for those who believe there should be a little alchemy in something called pickleball camp. (But you'll enjoy the absurdity of it too.) It's for those who believe a cleft of saguaro cacti has something real to show us about ready position, and that sand dunes might unlock our latent understanding of the transition zone. It's for those who believe in both journey and path—and the infinite possibility of the Baja coast.
In the mornings, you'll work closely with coaches and other campers, honing strokes that flow seamlessly as waves breaking off the Pacific. You'll unravel the game's complicated positioning mysteries, as you overlook a sea which Jacques Cousteau once called, "the aquarium of the world."
Before, after, and in between, you'll integrate a pickleball specific "wellness" experience. (Sometimes around the court, sometimes in the sand on the beach.) Deep movement sequences—beyond ball and paddle. Real mindset work to support the physical movements. Video work. Old fashioned notebook work. Role playing exercises. Passionate, moderated discussions. Those open to it will have opportunities to weave their inward looking journey into a local cultural narrative. Our aim is to create moments where you can discover your true "pickleball" identity, in a setting without limits. At El Camino, you can become anything you want.
DATES: December 10-17, 2023.
PRICE: Approximately $2,700/person (based on double occupancy).*
INCLUDED:
8 days/7 nights accommodation at Hacienda del Mar.**
Transportation from airport to resort.
Deluxe daily breakfast adapted to any diet.
12+ hours "on court" clinics with two coaches. (Maximum 8:1 player to coach ratio.)
Five "learning lunches" in the Player's Lounge (adjacent to courts).
12+ hours afternoon/evening free play.
Sunday Night Welcome Reception and LUCHE LIBRE PICKLEBALL.
Friday Night Lights Team Pickleball Challenge.
Video analysis on first and fifth day of camp.
Two "happy hour" classic match viewing events.
Daily access to a professional mindset coach.
Goal setting workshop.
Daily guided breath work + dynamic warm ups.
Opportunities to engage with real local players.
Thursday art/culture walk and optional dinner in Old San Jose Del Cabo. (This will be the week before Christmas—a unique experience.)
Deluxe gift bag, which will include choice of limited edition socks, hat, shirt, craft chocolate, and other items.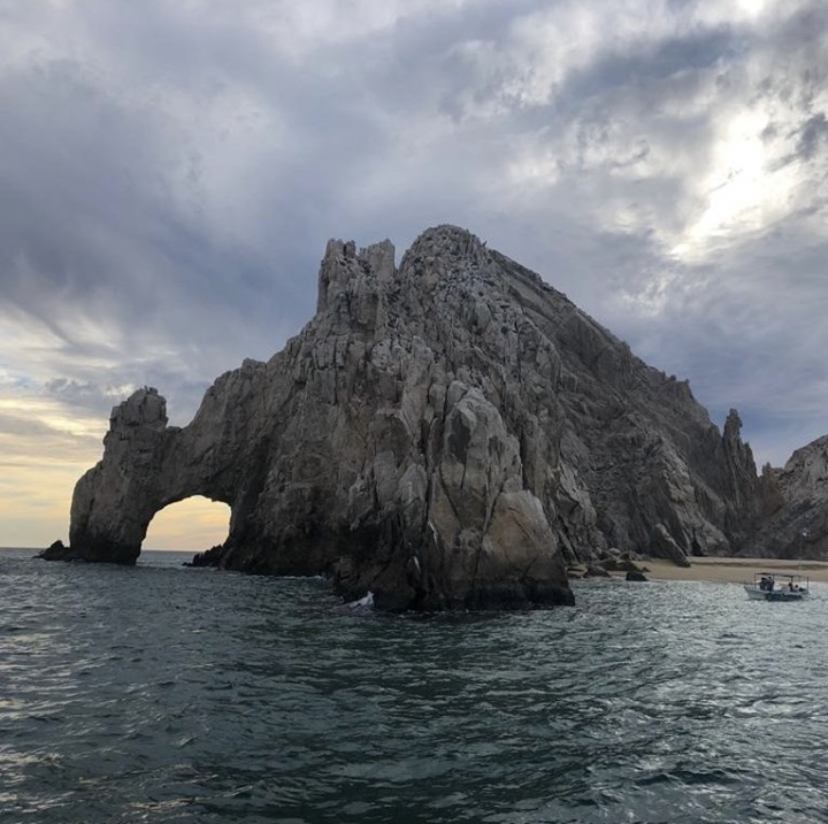 A place belongs forever to whoever claims it hardest, remembers it most obsessively, wrenches it from itself, shapes it, renders it, loves it so radically that they remake it in their image.

Joan Didion, The White Album (1979)
NOT INCLUDED:
Airfare. (There is a direct flight from YVR to SJD.)
Drinks/lunch/dinners.
REALLY NOT INCLUDED:
Hand holding. El Camino is for thoughtful pickleball players who expect their fellow campers to help build a real community for the week. Please complete the pre-trip material and participate in the pre-trip group Zoom call. Please commit to arriving on time, drilling sharply, staying hydrated, nourished, contributing thoughtfully to group discussions, listening thoughtfully when other participants share, supporting others with an open mind, taking time for yourself when needed, treating our hosts with respect.
Each participant in this camp has been invited because they have a lifetime of enlightening experiences to share with others. This is a unique opportunity to train and play with those who are on similar paths, converging in Baja to put their entire body, mind, and soul into a group experience. As we create training groups and different routes through each day's schedule, we want your feedback on how to make the most out of every minute of this experience.
DEPOSIT: $1000.00 non-refundable deposit will be due by September 1 along with completion of pre-registration application package. In order to maximize group chemistry, we are limiting number of participants.
PRE-REGISTRATION APPLICATION: El Camino needs a constructive mixture of players. If we can't guarantee you the right challenge or group dynamic, we will refund your deposit and attempt to find you a place in our next camp. The purpose of these questionnaires is to help each participant find situations where transformative learning can take place alongside participants who are as into it as you.
*Final itinerary TBD.
**$3,600 for single with own room. Participants interested in the Solaz package (starting at $6,300.00) should inform organizers ASAP.
***Please let us know if you're travelling with participants who are not interested in the pickleball program.
LOCATION: The southern tip of Baja is where the continent runs out. This is where restless dreamers have journeyed to escape, to reflect, to reinvent, just down the road from where Hotel California was written. In recent years, Los Cabos has become a haven for healing and wellness. The pickleball courts sit at the intersection of desert dunes and rugged mountains, where the Pacific meets the Sea of Cortez. You'll be staying at a hacienda-style resort with courtyards, stone arches, fountains, gardens. Pools and hot tubs cascade down towards white sand beach.
COACHING STAFF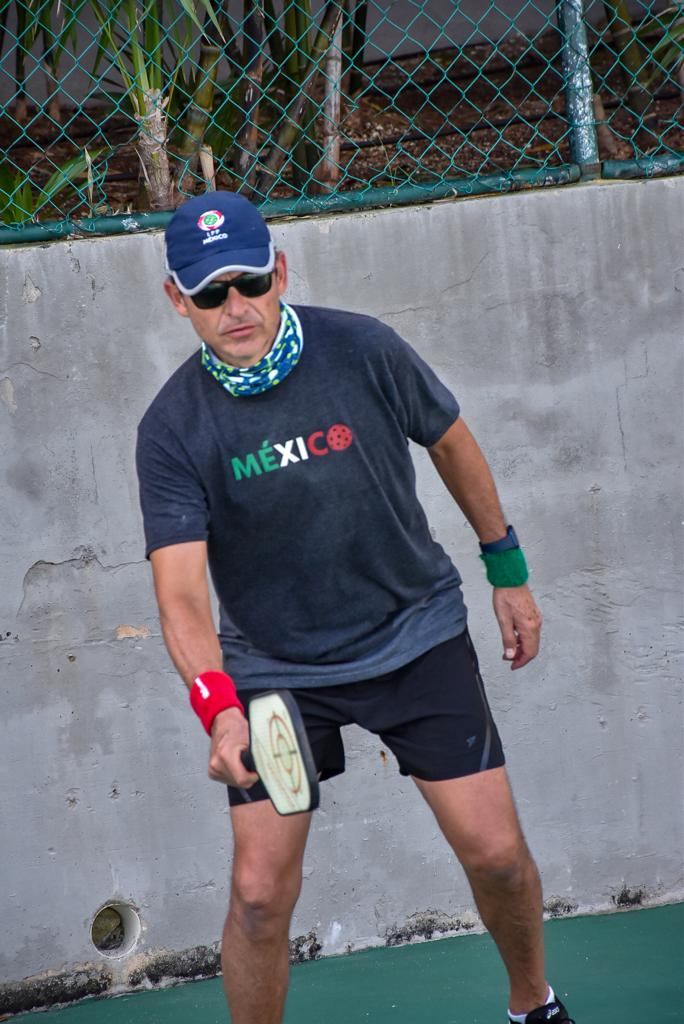 JAVIER REGALADO
Javier Regalado hit his first tennis ball at age five in Mexico City. He began taking lessons at the neighbourhood courts. He spent hours drilling against the wall, and eventually training with the best players in Mexico. He played Division 1 NCAA tennis at the University of Texas El Paso, honing an elite mindset. At UTEP, he completed an Industrial Engineering Degree—and began coaching tennis. Coaching became his new passion.
Regalado returned home to Mexico to complete his MBA. He continued to coach. Seven years ago, on a ship from Rome to Singapore, a group of players from Vancouver introduced him to pickleball.
Regalado began competing in pickleball tournaments around the US. He undertook an Odyssey through Mexico, cultivating a thoroughly original lens on pickleball development. He founded La Liga Profesional de Pickleball Mexico. He created Mexico's National Pickleball Training Centre. This spring, he was elected the first Chair of the Board of Directors for Pickleball Federation of the Americas, a continental federation with the goal of unifying the governance of the sport.
"Los Cabos is the epicentre of pickleball in Mexico," Regalado says. His collaboration with the Jericho Hill Pickleball School represents the convergence of all Regalado's paths. El Camino is a camp where players from around the world are introduced to the cutting edge of Mexican pickleball, to authentic Baja lifestyle, and the unique aura of Los Cabos sports and wellness culture.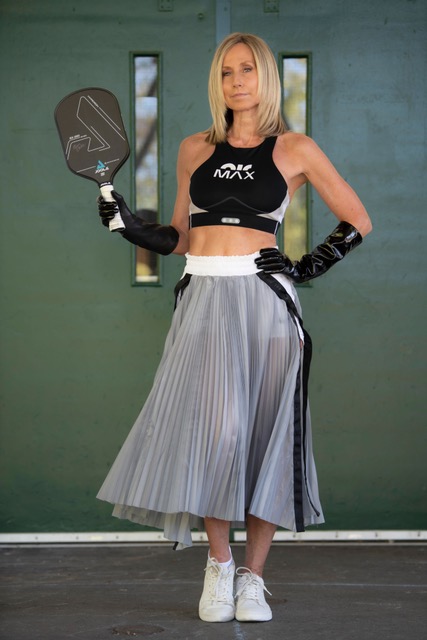 COLLEEN MALLETT
Colleen Mallett has spent a lifetime synthesizing practical answers to elusive questions about the connections between body, mind, and performance. In her role as The Jericho Hill Pickleball School's Mind Body Wellness Coach, she has literally changed the lives of her athletes.
Mallett's bio reads like the resume of a character out of a Wes Anderson film. Certified Red Cross swimming instructor, certified YMCA fitness instructor, certified BATD dance instructor. She is a Clinical Hypnotherapist. A Reflexologist. A pro fitness model and bodybuilding posing coach.
She's trained with mindful thought leaders ranging from Tara Brach to Jack Kornfield and Jon Kabat-Zinn, from Alex Howard to Kristin Neff and Tony Robbins. She studied Nutrition at the University of Guelph, completed Levels 1 and 2 of both Reiki and Qigong, studied ZIVA Meditation, Transcendental Meditation, yoga, pilates, neuro linguistic programming, and Feldenkrais Method training. (The latter reorganizes connections between brain and body to improve movement and psychological state—and underscores El Camino's off-court work.)
Mallett has drawn from each of these disciplines to develop a unique pickleball training methodology. She co-created the ten-part program: "Pickleball Is Everything." This fall, her movement-oriented sequences will be featured at The Pickleball Training Hall. She'll sometimes pop into one of the school's clinics to lead a dynamic warm up or ten minutes of breathwork before a session begins—or to simply talk a player through a training block.
On top of everything else, Mallett is a certified event planner AND travel agent. El Camino is truly the culmination of a lifetime of training.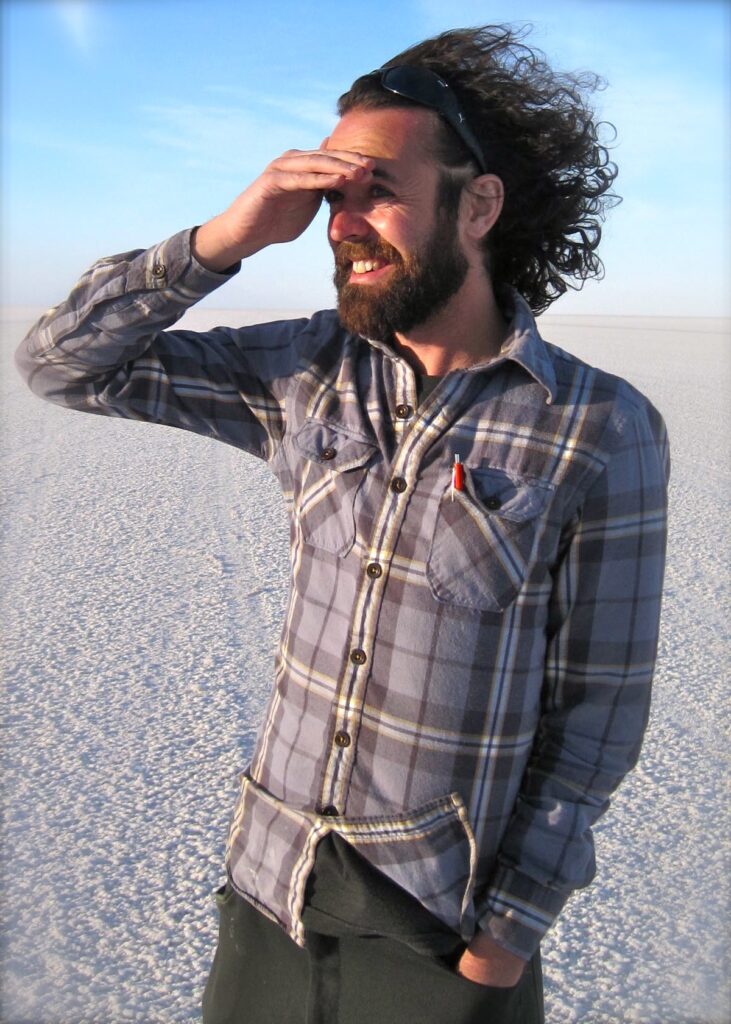 CHRIS KOENTGES
Chris Koentges has won seven National Magazine Awards and is a Level II NCCP pickleball coach. Before the pandemic, Koentges was writing a series of sports features for publications like The Atlantic Magazine, ESPN, and Bleacher Report, examining fringe games like pinball and featherbowling. As you go deeper down the rabbit hole of these subcultures, it's only a matter of time until you discover pickleball. His first exposure was at Indian Wells. He was introduced to technique and strategy from the people who were inventing it.
Koentges was fascinated by the way athletes would construct their pickleball identify from a variety of background sports and unique life experiences. Pickleball is a relatively new game. Its expression continues to evolve rapidly. He synthesized a manifesto for this emerging culture of "lost athletes." He began coaching with the Canadian Pickleball Academy—one of the country's most influential pickleball schools. His students likened to him to Ted Lasso. He showed athletes of every level how to believe in themselves. But something a little more eluseive too.
The Jericho Hill Pickleball School emerged in secret locations during the Covid lockdowns. Koentges worked in unique free flowing formats with a variety of high level tennis, badminton and squash players; he coached mountain climbers, competitive cyclists, retired professional basketball players, a CFL linebacker, guys in the Hockey Hall of Fame, tap dancers, world famous architects, art professors from Emily Carr, and a variety of gardeners. Which is all to say, there is no single once-size-fits-all approach to pickleball.
As pickleball continued to evolve, the way it was being taught stagnated. At West Point Grey and UBC, Koentges developed a new kind of pickleball program—featuring masterclasses, intersection workshops, mindset, team building clinics— collaborating with over a dozen different coaches. West Point Grey's unique pickleball program has become a laboratory of innovation. Koentges also collaborates with Pickleball Canada, The Vancouver Pickleball Association, and Pickleball Magazine.
Learn more about the JHPS—practical and mythological.
And some stories about development, true underdogs, and innovative sports cultures.