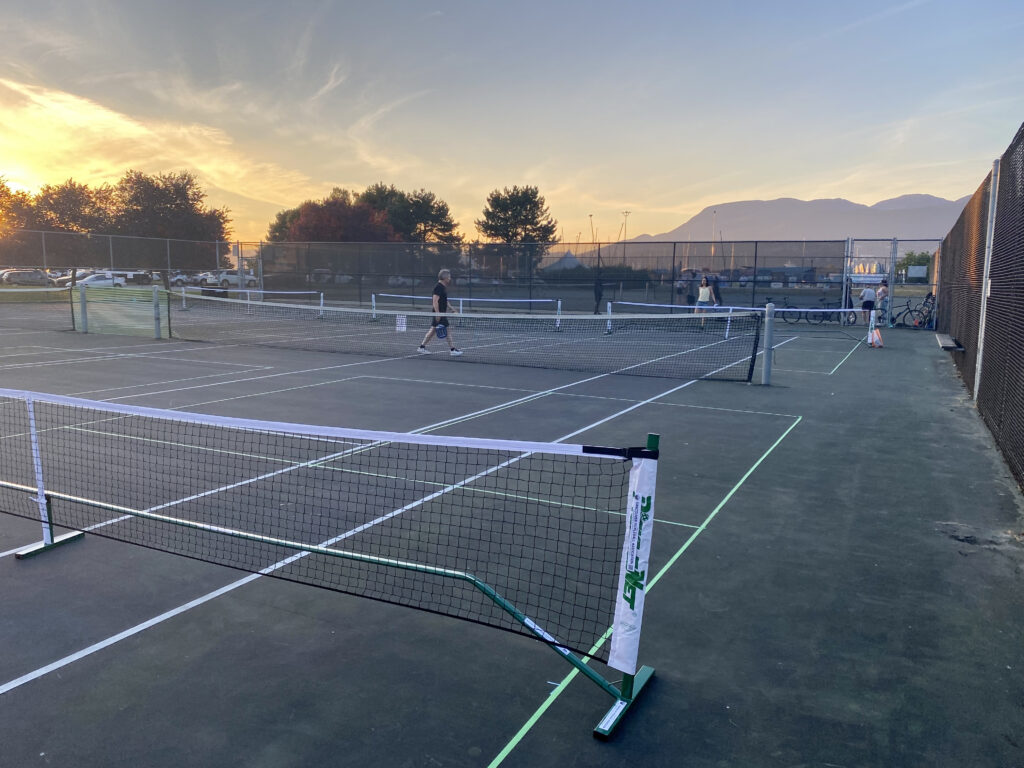 Indoor pickleball is a grindhouse chok-a-block with its own magic. Familiar faces, slashing their way through the winter together, desperately cramming in points before the Step Aerobics instructor kicks you out of the gym.
Spring pickleball, by contrast, is sweet and hesitant. The magnolias are in bloom. The clouds dramatic. Over WhatsApp, you goad three people you vaguely know into an impromptu game. You sneak out of work early. And for a couple of hours, barely aware of the surrounding world, the four of you create something that feels intense and meaningful, before you gradually find yourself swept into some weird formless round robin with total random strangers. You to lose track of time. "Stay for one more," someone says. You've missed dinner, by that point. These strangers feed you different treats between games. And four more later, you're imploring someone else you just met to squeeze out a few more minutes of twilight.
The outdoor season begins differently for each of us. But that sort of indulgent evening is when you know it's on. The whole summer still unfurled ahead of you.
Summer pickleball breaths and even pants. Queen Elizabeth Park in the height of summer is almost too good to be true. Not long ago, the site was a single unused tennis court. On a warm June evening, there are now upwards of a 100 players sharing the space. There's a quiet chaos, and an informal ethos: arrive as strangers, leave as friends. The mysterious board of paddles on the wall moves like a ouija, channeling something deep and hopeful, an intersection of lives at a moment of time. You'll hear two dozen different languages, each fluent in the universal language of a rally.
Summer pickleball is light and filled with serendipity. You never know who will show up. Sometimes the 5.0 players arrive, and you get a glimpse of the deeper level of the game itself. The breeze carries their delicate strokes from the back of the court, down through the sky like the pappus face of a dandelion. You recognize the structure of their rallies. But the points feel like free flow jazz riffs.
The controlled patter of these riffs, from one little court to the next, the chatter between, creates a warm cacophony—like a plaza in Barcelona at night. The chance encounters, finding comrades. Spectacles. Hatching plans. Joy! It's the point of living in a city. There is no fee for this experience. Everybody is welcome. It's hard to think of a space in Vancouver where so many total strangers regularly gather and share something random and real.
By July, you seem to settle into a crew of new friends. Or rather, you find yourself straddling the edges of several different crews. There are the games you play to engage with those kind strangers—the games you will never stop playing. And there are the games you play that push you inwards, teasing out competitive points like jazz musicians, leading you further down the rabbit hole, inside and outside, in a quest to hone your craft.
One wishes this deeply meaningful shared experience, seemingly so effortless, could be duplicated. Instead of having to drive to Queen Elizabeth Park.
Sustainable cities—eternal cities—are composed of similar plazas and villages.
QE began as an experiment. This week, two similar experiments have begun at Jericho Beach and Memorial Park South. In the end, these new sites will become whatever you want to make them.
-CK